I started out the year 1975, living by myself again after a 12-year partnership with Simon Posthuma went on the rocks. The Highland Camrose Bungalow Village next to the Hollywood Bowl was one of those unique places in Los Angeles with its own special appeal and ambience and truly felt like a community. The pretty craftsmen style bungalows were painted different colors surrounded by mature trees and nice landscaping. The compound was managed by ex-D.J. for KFWB/radio 98, British "Lord" Tim Hudson. Built in the early 20th Century it was added to the National Register of Historic Places in 1989.
I was 32 years old and ecstatic to be able to paint so much more without the incessant demands a relationship requires. My little bungalow was inspiring, it had a tiny garden in front and one entered the cottage through a small enclosed front porch. The living room/studio was quite large with a wood burning fireplace and even a small balcony from which I could see the sun rise, supplying me with euphoric moments. The hallway gave access to a long and narrow kitchen with the bathroom and bedrooms on either side.
In order to secure income, I had previously sent a sheet of slides depicting my costume designs to the iconic costume designer Edith Head, hoping she could help connect me in the film industry. After three months she kindly responded by saying how much she liked my work but that the field was pretty much history and actors wore mostly off the rack clothing while many designers were out of work. This was another impetus to concentrate solely on painting and graphic design and forget about garment or textile designing as a way of making a living.
My manager Ben Stagg and his mate Jim Paris were able to sell my lithographs and serigraphs through "Open Gallery" so I could pay the bungalow's rent of $150 per month and buy a used Plymouth station wagon to haul my paintings around. Even though I am introvertive, I started to socialize more and one way or another I soon had a circle of friends to spend time with on and off. Because Jim and his pretty wife Kathy lived practically next door with their little girl Lynnette, I had good friends nearby who darted over regularly and I was not lonely.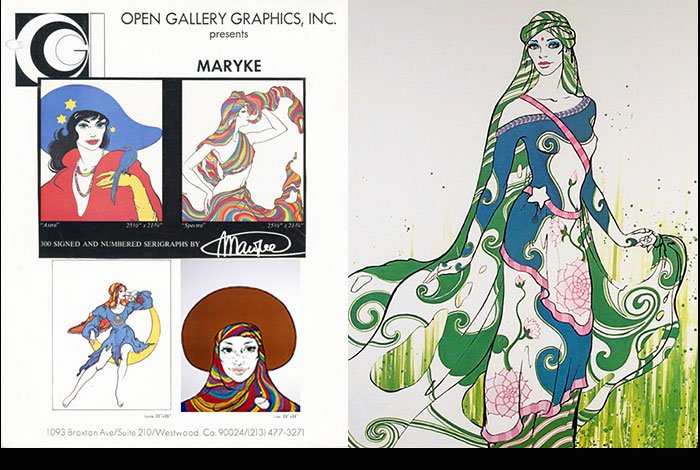 Jim was managing Buddy Miles and recording the Roadrunners album at the time and Buddy would cause a regular commotion, arriving in his black Panthera car, often accompanied by his charismatic girlfriend Christie Love. Jim always had a full house, so when the loo wasn't available Buddy, larger than life, might barge into my place to use the bathroom at any time, offering some drug of the moment, cocaine or quaaludes, neither of which I particularly cared for, a nice doobie would do me just fine. Buddy was such a loveable Badass!
My old friends the charismatic Gemini twins, Maureen and Colleen and her partner, guitarist Richard Fortune (who had participated in recoding the Son of Album album) went on tour in Mexico with Buddy Miles' Roadrunners, while their little girl Cherokee stayed with me and became best friends with Lynnette. I love children and always enjoy their company. Exquisite model Donyale Luna also came to stay with me while she was recovering from a lost romance and I happily made some drawings of her until she flew back to Italy.
Other girlfriends would come visiting; Linda Dalton, of Cherokee ancestry, Dawn Hillman, the tie-dye queen and Magalis Rodriguez who both designed really beautiful outfits. Rita Coolidge bought my newest painting entitled "The Rendez-Vous", for Kris Kristofferson's birthday, and Connie Nelson, Willie's then wife, whom I had met at Rita's house, bought a room divider that I called "Soulmates".
I had not seen Joni Mitchel for a couple of years since her split with Graham Nash but she was temporarily living in an apartment building nearby and in the process of buying Julie Andrews' house. It was fun to get together again and reminisce. After some meetings she also commissioned me to paint a fireplace screen I called "Music", set in a tropical landscape embellished with Joni's profile on a sphinx.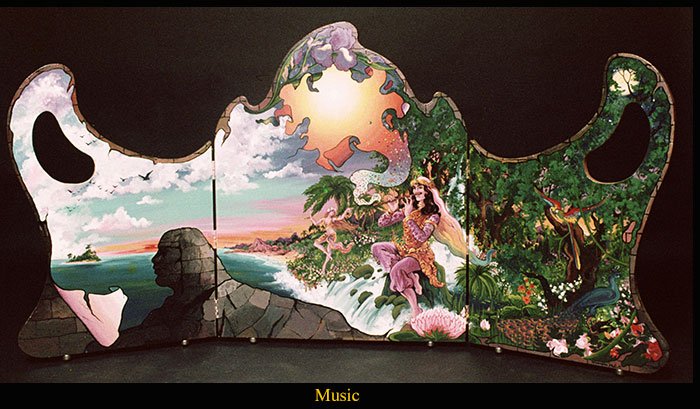 The "Bodhi Tree" book shop in West Hollywood enticed me, books are my constant consolation and I am a ravenous reader. The Self Realization Fellowship Lake Shrine retreat in Pacific Palisades also was a favorite and peaceful outing. I actually got married there in the Dutch windmill chapel to my third husband Don Dunham in 1999. The adorable Ray Schmidt (aka the Monk) was my special friend, afflicted with extreme curvature of the spine, He liked to take me for lunch at Erewhon's and show me the murals in the Armenian church in Hollywood.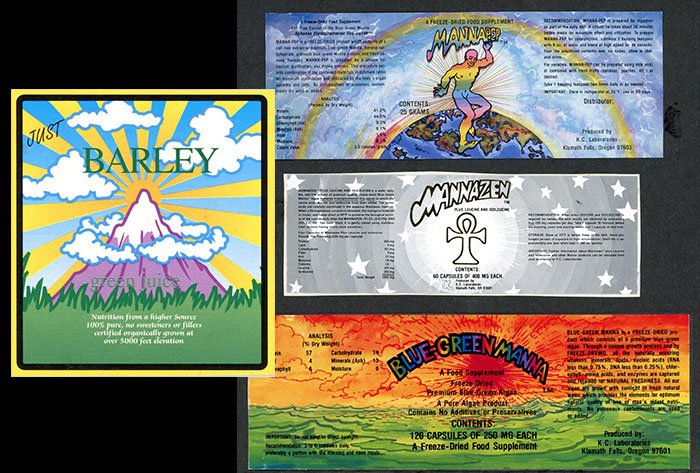 Ray was adopted by the Hopi tribe's Chief grandfather and knew a lot about medicinal herbs and plants. He had connections with producers of health products such as blue-green algae and barley extracts whose packaging I designed, small graphic jobs that I always loved doing. I thought the blue-green algae product was great, after all, blue-green algae (cyanobacteria) invented photo synthesis, enabling eukariotic cells and life to evolve! Ray also obtained a commission for a mammoth oil painting for me from Victor Kollman, the CEO of the company that produced the products and who he worked for.
Guitarists Jimmy Calvert & Norman, both studio musicians, had regular music jams in their Laurel Canyon animal house and offered access to live entertainment and the company of cool guys and girls. Through their connections I obtained Ketamine, sub rosa known as "green", the only pharmaceutical I could paint on while under its influence and which had a calming effect on me. Psychiatrists nowadays believe micro doses of this chemical is very effective for depressives.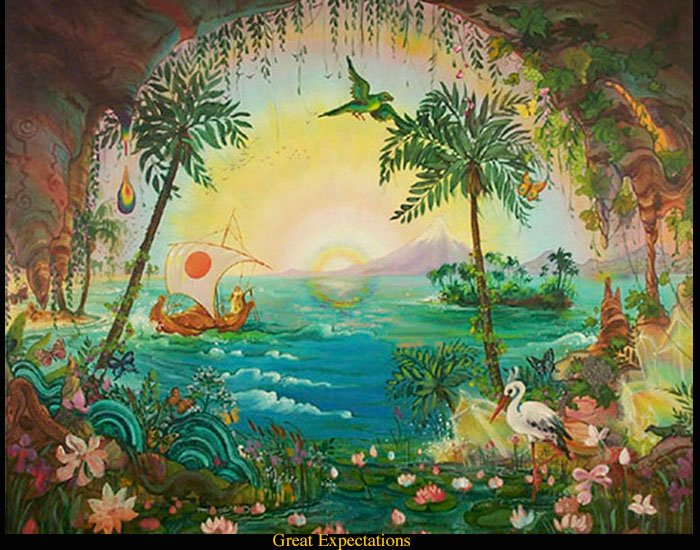 Linda Dalton and her boyfriend Charles (an Iraqi financier) came by one day and Charles mentioned he had a gemologist friend called Adrian in the down-town Los Angeles diamond district who needed decorative lettering on his shop window so we went to see him and I got that job done. Afterwards Adrian invited us to dinner and while looking through my portfolio, spoke about an acquaintance of his, professor J. J. Hurtak, an author, who needed an illustrator for the book he had written or rather, transmitted from a higher source.
Adrian promised to relate my information to the professor and it was not long before Dr. Jim Hurtak rang the doorbell, accompanied by his pretty wife Dr. Desiree Hurtak. They were blown away by my paintings, especially the large canvas called "Equilibrium" that I had recently finished and they concluded I was the one who would have to illustrate his book; "The Book of Knowledge; the Keys of Enoch". Jim, wearing his mandatory beret, had a powerful but kind personality and Desiree was just as smart and sweet. They became dear friends and my protectors henceforward.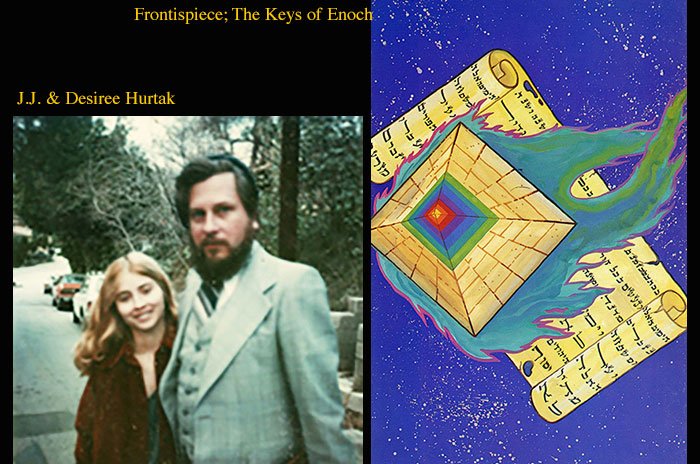 Jim is an American social scientist, linguist, futurist and author. His work encompasses a diverse array of disciplines such as comparative religion, philosophy and unconventional theories about planetary sciences and archaeology. Through the "Academy for Future Science" the Hurtaks work internationally to encourage people to embrace new emerging technologies and provocative ideas, encompassing history and spirituality.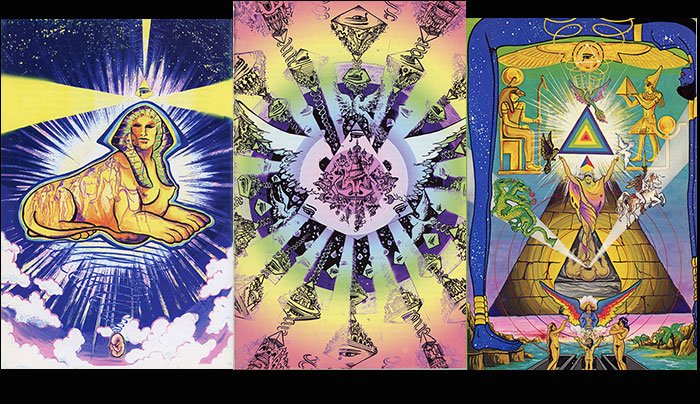 I soon had my hands full painting the illustrations for Jim's book, which we discussed at length as to substance and content. I thoroughly enjoyed the commission which took me a couple of months to complete. The book has since been translated into many languages and published in several consequent editions which sell all over the world. He is a frequent speaker at conferences including the United Nations with the goal of expanding peoples' awareness of alternative ideas and theories.
Rita and Kris Kristofferson were going to attend the 1976 Oscars for "A Star is Born" and Rita asked me to design her dress for the occasion. I created a long white satin gown, the tight bodice embellished with a multitude of white and crystal beads which Dawn Hillman helped me sew on. Over the gown came a floor length matching cape, clasped at the throat, that could easily be removed. We had a good laugh later when she told me a few of the little beads fell off into her soup during the fancy dinner, making it pearl soup…
I dated three interesting guys, all tall dark and handsome. Rezi Cashfi was of Iranian stock and wealthy. He was playing at being a music producer and maintained an office in Beverly Hills but his party house on Coldwater Canyon Road was almost nightly jumping with loud Rock & Roll and Disco music. Catered food was ignored while the bar was busy and lines of coke, quaaludes and weed were consumed at an insane rate. It was always fun to attend the parties until I collapsed. Rezi acquired a very large room divider from me that graced the spacious living room.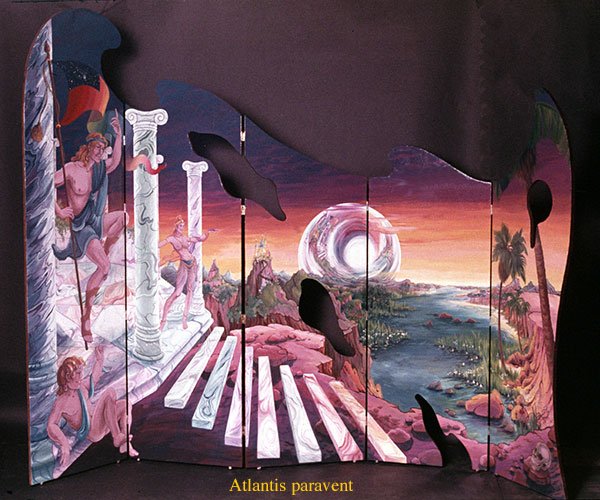 Tony Mitchell, of Puerto Rican background, had quite recently arrived from Florida to try and make it as a cinematographer in Hollywood. He was a Zen Buddhist, a follower of master Suzuki and radiated a calm and peaceful attitude. Maybe he meditated just a bit too much…When he couldn't make things happen in town after a few months he gave up, gifted me his cool 50's Willies jeep and returned to Florida. When an old friend of Simon, (drummer Roy Ramsey) asked me to borrow the jeep for a gig he never returned it, claiming it was a gift! I had daftly left the registration papers in the glove compartment…
Shawn Lake was a guitarist, reminiscent of the Ramones. He was quite good and had a band called "Borealis", which the fans interpreted as "Boring Alice". With my stepdaughter Roselie, who was staying with me at the time, we liked to go to their gigs. We would drive all the way out to Anaheim in the Firebird to see them perform. (Simon and I still amicably shared our cars, when he needed to move paintings he used my station wagon). I also introduced the band to Rezi Cashfi at his Beverly Hills office, who listened to the tapes and he really thought the band was hot but of course nothing ever came of an intended recording contract.
Gary Kellgren, the owner the "Record Plant" recording studio whom I knew from recording The Fool album in his New York studio, owned a massive house, practically a castle, at the top of Miller Drive in Hollywood where the madness continued day and night. The Wagnerian had a separate "war room" with grotesque Nazi regalia and paraphernalia, including a miniature battlefield table. Per his invitation I hauled some large paintings to hang on the huge empty walls, hoping for sales, but after several months things got completely out of hand there and I picked them up again. Thankfully they escaped destruction. Clearly that was not the kind of environment suitable to my artwork.
Unannounced, one afternoon someone knocked on the door and there was Timothy Leary in the flesh…He had the bluest eyes of anyone I have ever met! Simon had sent him over to see my paintings and we were mutually impressed. It was a pleasant surprise. I made some tea and we chatted a bit, he more than I, because I am not very verbally inclined, but there was a groovy atmosphere. He definitely radiated good vibrations and a certain glowing aura, I was glad to have met him.
To get away from it all I would visit Michael Butler to watch when he played in a polo competition at the Earl Warren Equestrian center in Santa Barbara. He owned a mansion in nearby Montecito where The Fool in '73 stayed for half a year working on a musical show I had conceived of in the early 60's; "Fool's Paradise" (a similar concept as Cirque du Soleil) but it finally never came to fruition because the "Fool" members could not agree on anything. It seems my life was full of efforts that did not make the mark…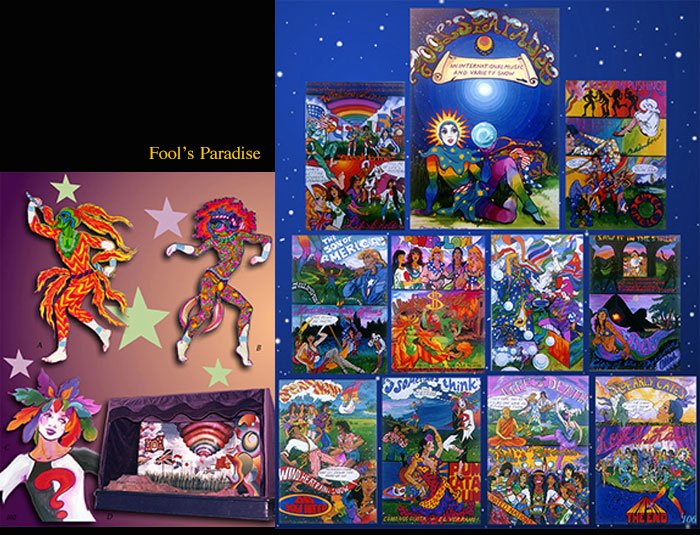 One evening I went to see my friend Richard Levine around the corner on Orchid Drive to obtain some weed for the upcoming Thanksgiving celebrations. There always were a bunch of people passing through scoring one thing or another and this time a tall handsome guy I had never seen before entered the room and caught my eye. We were introduced and there was an immediate magnetic occurrence. His name was Guard Hall, he had blond hair and blue eyes and told me he was an aerospace engineer at Jet Propulsion Laboratory…
To be continued…