ERIC CLAPTON'S 1964 GIBSON SG
During my adventures in London during 1966, my ex-partner Simon Posthuma and I had established our selves in a great Georgian style place in St. Stephens Gardens, Bayswater. The house was quite run down and dilapidated but had large rooms. The living quarters were on the ground floor and a spacious studio on the second floor gave us plenty of room to paint large canvases and objects, install work tables, store artwork and invite musicians to play and jam and do whatever we wanted.
By early 1967 we had befriended the charismatic Simon Hayes, owner of "Mayfair Public Relations", who represented among others Brian Epstein and Robert Stigwood, CREAM's manager. Stigwood was looking to promote the power trio's upcoming American tour in a bold and new way and had seen the poster I designed for Epstein's Saville Theatre's Sunday night rock concerts, which intrigued him and indirectly led to a commission. Barry Finch, an associate with "Mayfair" (and later a member of the Fool collective), took me and my portfolio to meet with Robert Stigwood and we discussed designing stage costumes and graphic promotional material for the band. When I suggested to Stigwood that it would be really cool to paint their instruments as well he was delighted and commissioned the lot on the spot.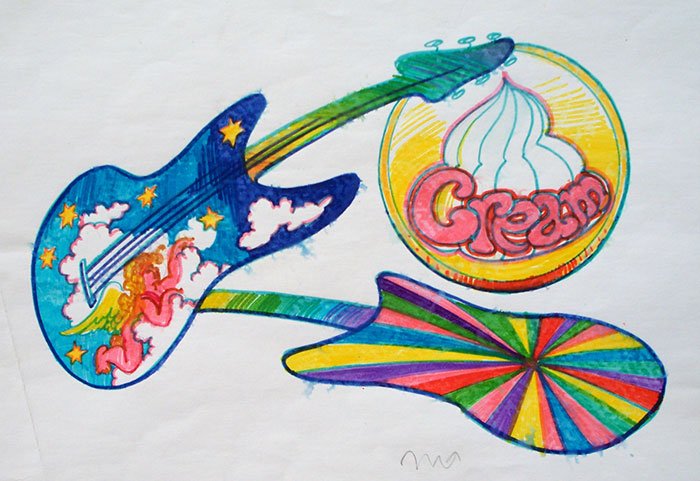 Back in the studio at our subsequent first meeting with Eric Clapton, Jack Bruce and Ginger Baker, they enjoyed looking at all the paintings, the radio blasting pop/rock, and we all got along great. They were excited about the project and their upcoming tour in America. I had produced a rough sketch for the decoration of the instruments which was approved by all involved and the ball started to roll…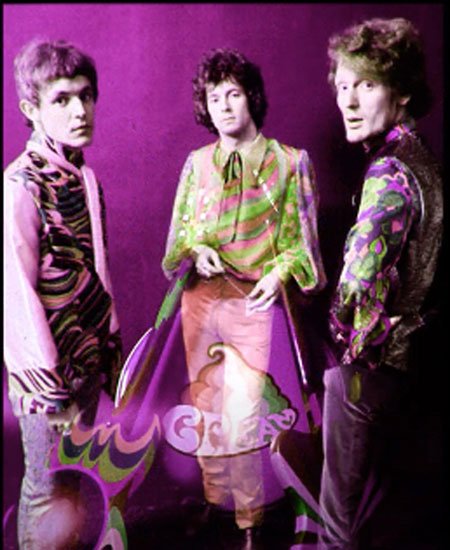 The first thing to tackle was the costume designs so I took the boys measurements and proceeded to buy colorful velvet, silk and satin fabrics featuring hot psychedelic textile designs. Luckily I discovered that on the floor above us lived a seamstress called Tina, who would sew the patterns I had cut out together for me under my supervision. That saved a lot of time and thankfully, she was very good at what she did.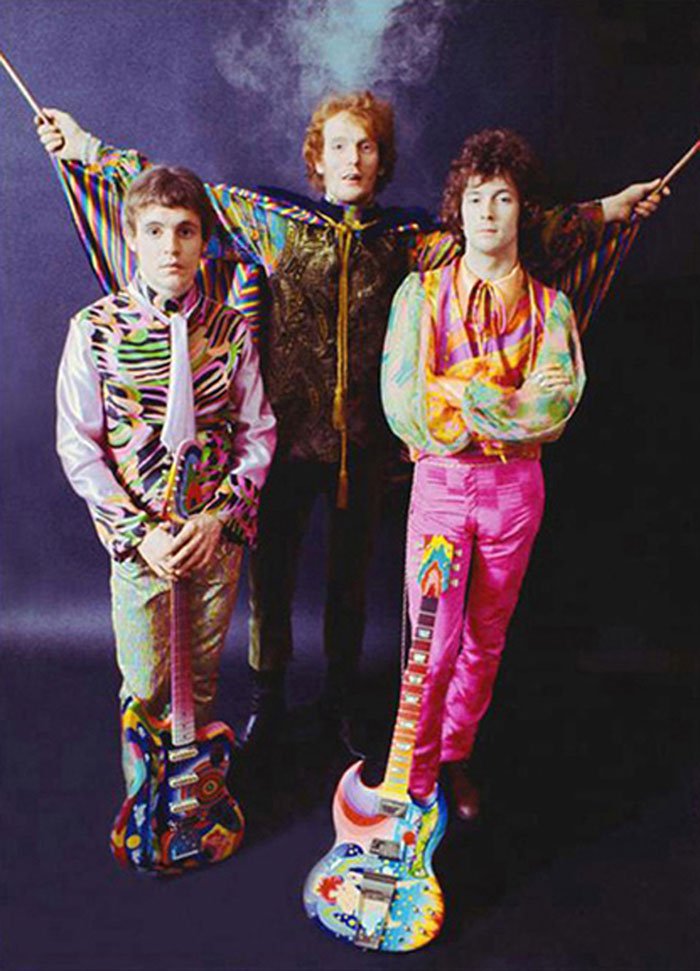 Meanwhile Simon had roughened up the surface of the SG and put some primer on it after which I painted the cherubic angel playing a triangle, a universe of stars and wavy undulating outlined multi colored shapes all over the body, fire flames licking the bottom part of the SG, suggesting the fires of transition, leaving space for Simon's graduating spectrum fan shape on the front of the guitar and the big spectrum circle on the backside, symbolic of the Cosmic Light. On the pick guard I painted a rustic country scene with a footpath receding to a red sunset, reminiscent of Paradise, with a touch of kitsch that made it pop-art.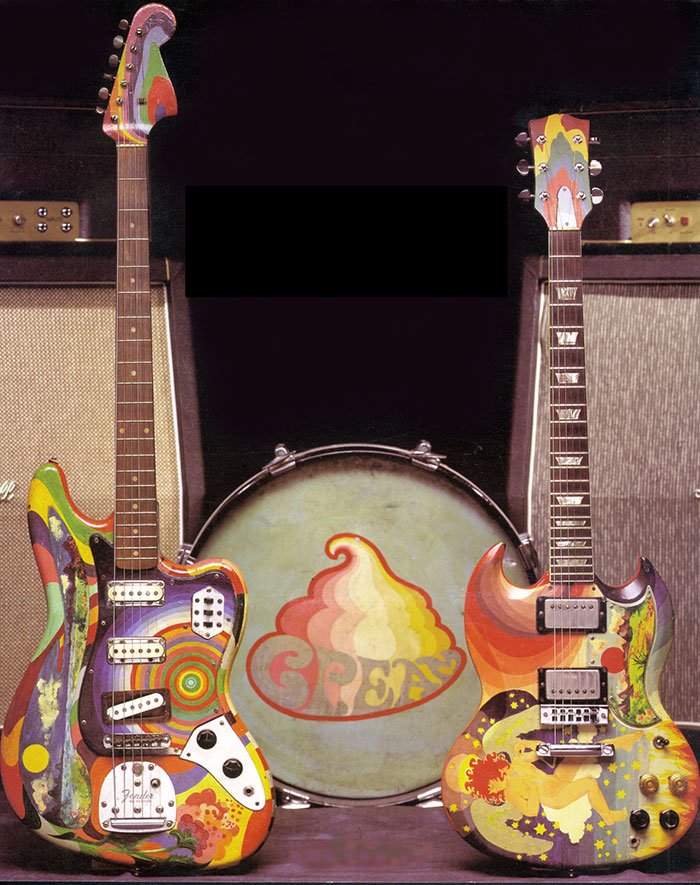 We proceeded in a similar manner with Jack's 1962 six string Fender VI bass: On the front I painted sinuous undulating color forms, a sunshiny landscape, a red rose representing romance and love while on the pick guard Simon painted a mandala-like pulsating Circle of Life. The backside displayed multicolored bands coming together in a central vanishing point. Simon then painted the fret boards on both the SG and the Fender, later removed by the musicians because it interfered with their playing action.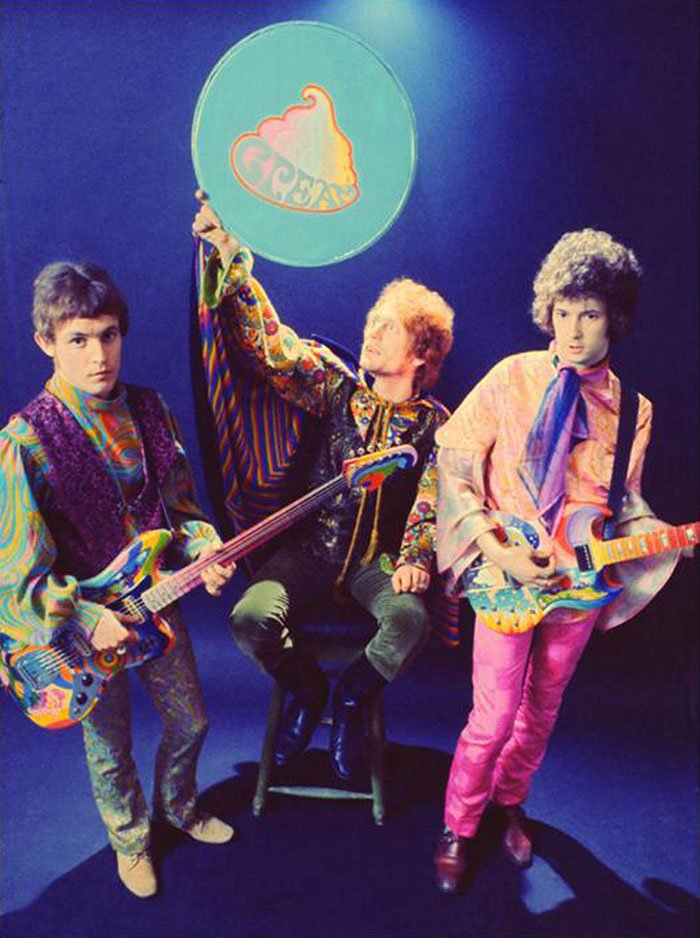 We used oil based enamels, (now outlawed because of its lead content) which was a smooth flowing paint medium. I put the "CREAM" logo I had designed in the center of Ginger's bass drum, leaving the rest a heavenly cerulean blue color. Strangely, Jack's painted Fender VI did not receive the same notoriety as the SG, I think partly because the sound Eric coaxed out of the SG was so unique by itself, what Eric called its "woman sound" and of course the lead guitar in any band is always center stage.

The last task was designing the 12" x 10" black & white promo booklet and I set to work on the lay-out and graphics, incorporating photos of the band members by our friend photographer Karl Ferris and enhanced with poetry by Barry Finch. During the time we worked on this project Barry hung around the studio all the time, he had become Simon's best buddy and helped us with ordering supplies and the production of innumerable cups o'tea!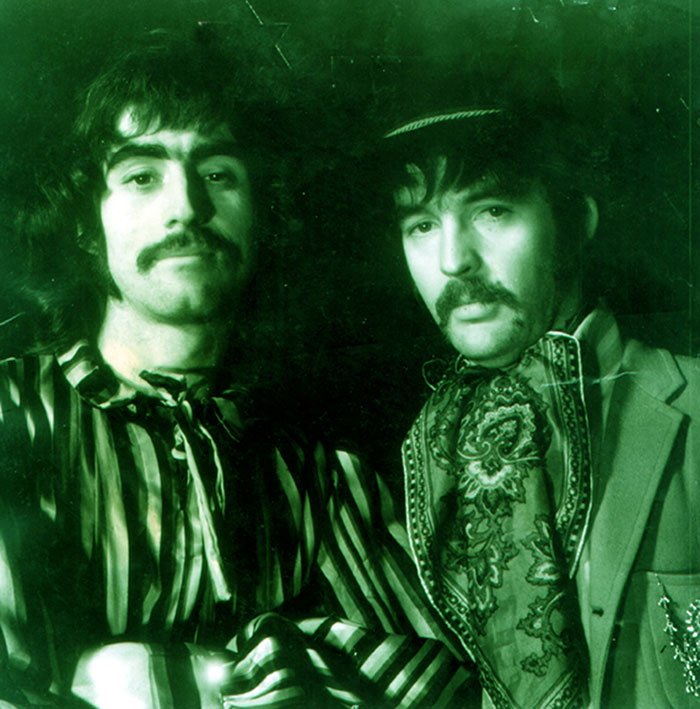 Finally we set up a photo session in our studio with Karl Ferris and Eric, Jack & Ginger dressed in their stage gear, playing their instruments. Everyone was happy we had successfully brought the project to completion. Before their departure to America, visiting Eric's Spartan pad, everyone sat on the floor toking joints and listening to his blues record collection of artists like Sonny Boy Williamson and Robert Johnson with other visitors, among whom his girlfriend model Charlotte Martin and Jimi Hendrix.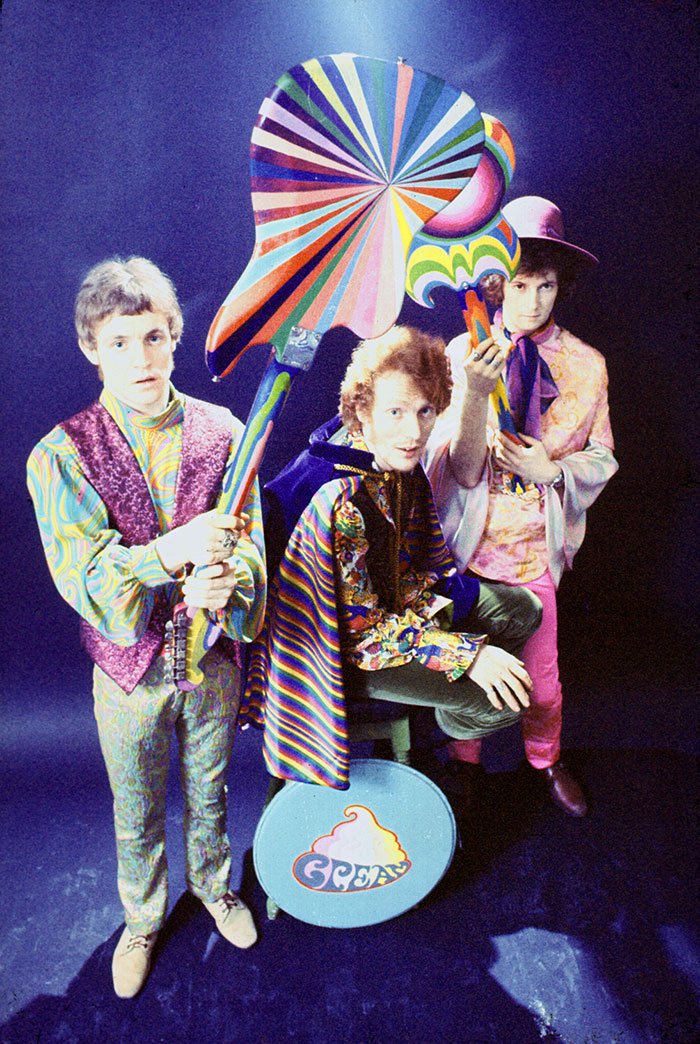 On a visit to Ginger Baker and his wife Liz's place Ginger, a real pyromaniac, started to play with his lighter and then put his wild and crazy hair on fire just for the hell of it, of course we soon put it out but if I had only had a camera… We'd jam a bit, Simon playing his Moroccan snake charmer and Ginger proclaimed me the best tambourine player he'd ever heard. I don't know if he was kidding but I have got rhythm…I am still credited with playing the tambo on the Beatles' "Day in the Life".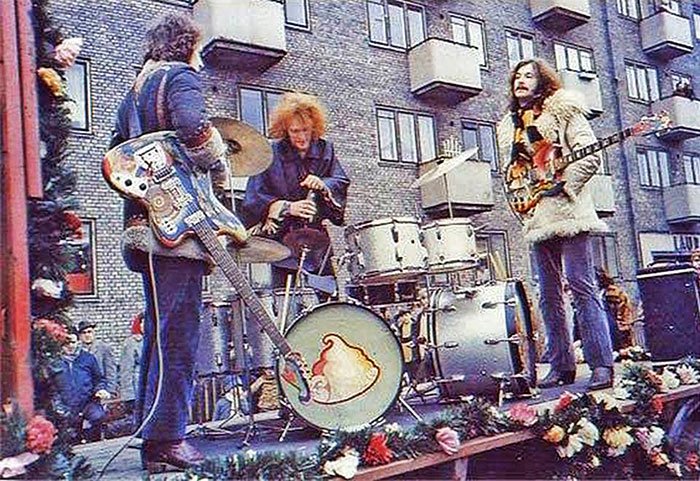 "CREAM", with "The WHO", made their US debut on Saturday, March 25 through Sunday, April 2, 1967 at the RKO 58th street theatre in Manhattan. Several commentators were taken aback at the band's appearance, including their instruments and costumes, as well as their stunning new music of course!
On July 2nd, back in London, "CREAM" played at the "Saville Theater"using their "FOOl" instruments. It is not clear if George Harrison originally owned the guitar and gave it to Eric ca. 1965. Much later Eric gave the guitar to Jackie Lomax who sold it to Todd Rundgren who had it nicely restored and later sold it at auction. Nowadays one can buy many imitation copies online, some quite good, some atrocious, as well as a cute miniature 10" tall "FOOl".
Eric's by now so-called "FOOl" SG, was proclaimed history's greatest guitar by Vintage Guitar magazine's December 2012 issue. The excellent article by my friend Craig Oxman is illustrated with life size photos of the original instrument giving copycats an unparalleled reference.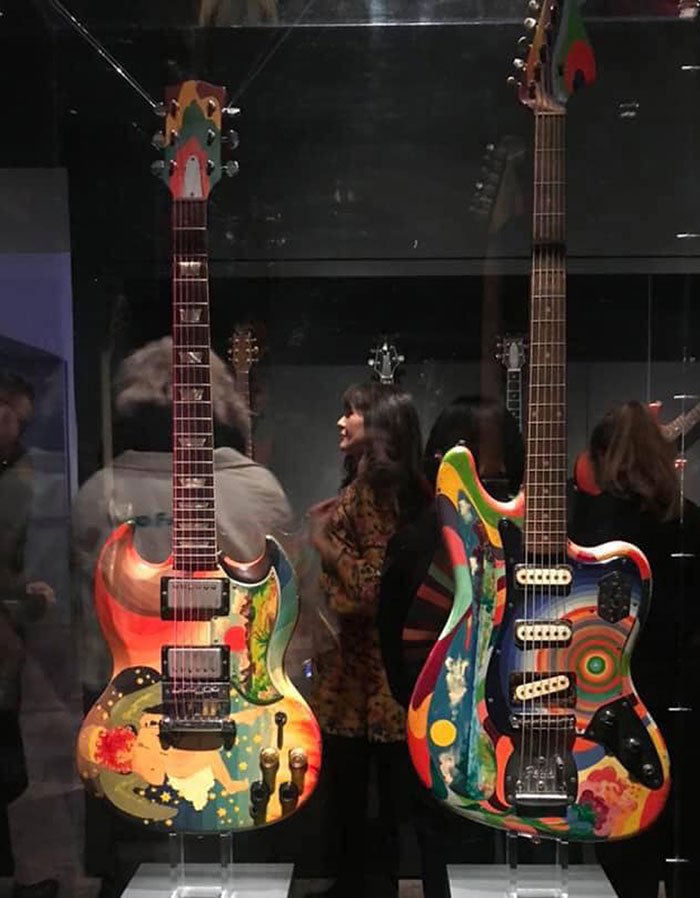 During the fall of 2019, the "FOOL" SG as well as the Fender VI bass, together once again, were on loan to the Metropolitan Museum of Art in New York for their "Play it Loud" exhibition along with many other historically acclaimed iconic guitars. The current owner (not to be disclosed) treasures the "FOOL" and takes extremely good care of the instrument.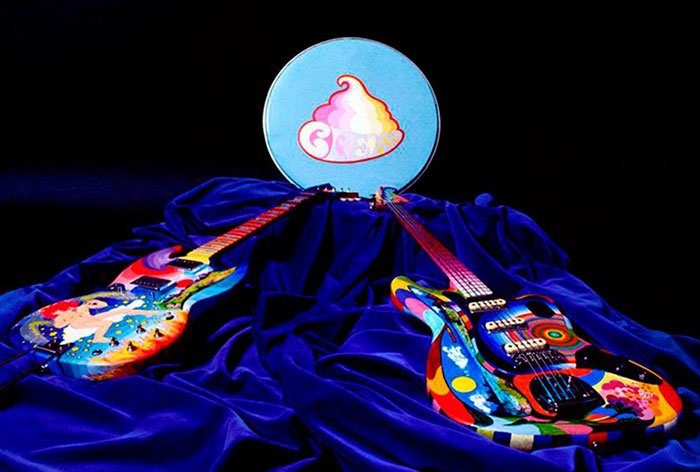 Remarkably, 54 years later, I was contacted recently to create an appropriate design reminiscent of the style of the "FOOL" for a new guitar pedal by "Aclam Guitars" to be called "Woman Tone" which purportedly will imitate the sought after signature guitar sound Eric produced from the "FOOL" SG. I happily accepted this commission and that product should be on the market soon.
The "Woman Tone" guitar pedal is now available from:
Https://www.aclamguitars.com/store/the-woman-tone.html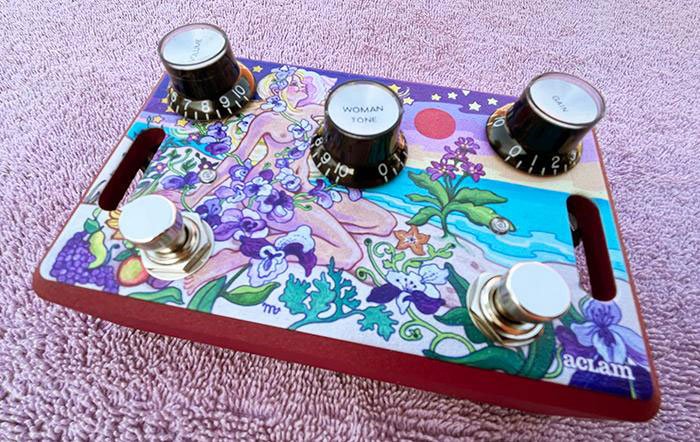 "Tears in Heaven"
What inspired me to paint a little boy angel on Eric's "FOOL" SG?
Usually ideas for a project just appear in my mind and then I follow up putting it on the surface at hand, paper, canvas, wall, or in this case a guitar. It was a devastating ordeal for the parents when 4 year old Conor Clapton fell to his death from the 53rd. floor of a New York skyscraper in 1991. I couldn't help but compare the beautiful boy with the angel on the SG, was it a premonition, or a disturbing coincidence?
On November 16, 2023 Eric Clapton's "the Fool" SG was sold at Julien's Auction for $1.27 million.

To be continued…