After the flight from Athens landed in Casablanca we took a bus to the city of Rabat, the capital of Morocco. From his previous experience in the country, Simon had an acquaintance in Rabat, an older man called Abdullah and when we looked him up at his business in the Medina he insisted we stay with his family in the Casbah des Oudaiahs.
The family consisted of the parents with four daughters and three sons of varying ages and they lived in a white and blue washed house of two stories around an inner courtyard that held a cute nanny goat. The tiled living room was also the parents and younger children's sleeping quarters with divans arranged against the walls around a low circular bronze table where the food was served. The kitchen and water well were outside beneath an overhang, next to a small room where the women worked on a loom weaving a pretty colorful wool carpet. Next to that the bathroom was a hole in the ground with a curtain hanging in front.
The youngest child was a 5 year old girl, Aisha, cute as a bug and light as a feather, who became my instant friend. The upper story's flat roof, reached by an exterior staircase, had two bedrooms, one of which was allocated for our use. Both had swinging half doors only, like a Western Saloon, we could not expect much privacy. The Atlantic Ocean was nearby and we enjoyed hanging out on the beach near the Bou Regreg river delta. One day while on the otherwise deserted beach, a picturesque group of nomads with their camels sauntered by and when they spotted us stopped and looked us over.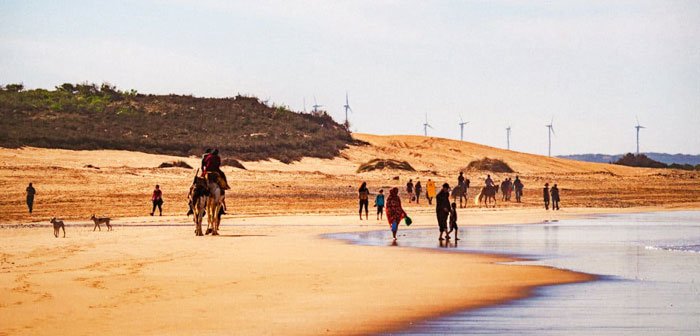 The Alpha mother came closer to me and looked intensely at my long necklaces of multicolored glass beads I had made myself. She pointed at the necklaces and then at herself, making clear that I was supposed to give them to her. Her husband, a large swarthy, menacingly frowning fellow with beard and turban, an immense curved scimitar knife stuck in his waistband, stood firm. There was no way I could refuse and after all, I enjoyed the idea that the woman would have something of mine she thought precious.
Other days we wandered around the Medina and intriguing souks where fascinating products from all over the Middle East where sold and were followed and accosted by multiple boisterous urchins begging for coins and cigarettes in French. I bought some beautiful fabrics there for later fashion creations. Those were the days when not too many tourists visited Morocco yet.
Abdullah's family had a cousin about to be married and they invited me to a strictly female wedding celebration in a house in Rabat. The men were all in a separate room. The women and girls in their best outfits made music with the clapping of hands, drums, tambourines and delicate brass finger cymbals. They sang in a haunting manner using ululation and danced with twirling sheer veils and flower wreaths around the beautiful cream and gold brocaded bride dressed in a gown I had made the previous year that I had packed in my suitcase as a possible bartering item which was just perfect for the occasion.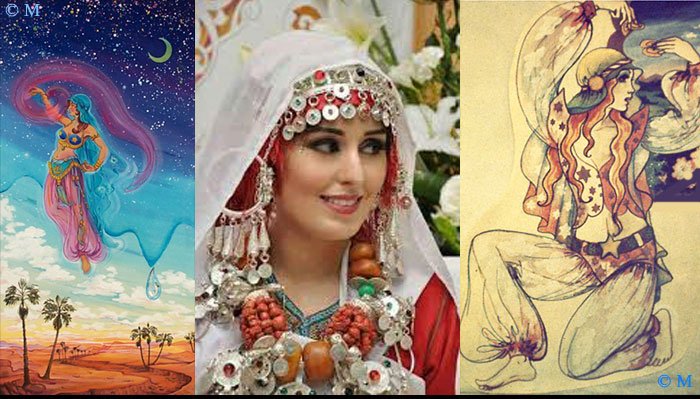 For a sumptuous repast we sat on cushions on the carpets and ate delicacies such as mahjoun, mixed with hashish, Turkish delight and baklava from small wooden tables inlaid with ivory, drinking mint tea. There was a lot of jesting and laughing going on but I could not understand much of what was being said, apart from a few sentences in French, which is Morocco's second language.
When one of the older sons started to make advances to me we decided it was time to move on. We thanked Abdullah and his wife with appropriate gifts and took a bus into the Rif Mountains to Tetouan. We wanted to visit Chefchaouen, a small town high in the mountains, straight out of the Middle Ages. Heading North, the bus was packed with men in djellabas, women in multi-colored shawls and burnooses with henna tattoos on their face and hands, accompanied by lots of children and even a goat or two and squawking chickens. Innumerable bundles and packages were piled on top of the roof and anywhere else possible.
THE RIF MOUNTAINS
A gentleman offered me his seat next to his wife with three children hanging on. An adorable little girl of about 6 with red nail polish and hennaed hair hopped on my lap and acted like I had known her my whole life although I couldn't understand a word of what she said, I do love little girls…From Tetouan we had to walk from the bus stop a couple of miles down the road to get to Chefchaouen. The weather was bright and sunny and the views of the mountainous surroundings were delightful.
When we entered through the gate of Chefchaouen, "the Blue Pearl" of Morocco, we were stunned, the whole town was painted a bright cerulean blue, breathtakingly gorgeous. We found lodgings in a small auberge with a tiny room, the lumpy bed barely big enough for the two of us. After a rest we went out to find a place to eat and while we ordered our mint tea, couscous and tagine we noticed a neatly dressed man, well groomed with a mustache sitting at the next table. He kept glancing our way and finally asked how we liked the town and introduced himself as Ali. We talked some more and at the end of our meal he suggested we come over for a drink at his house. His small but neat house was not far and we talked about our adventures and that we were artists from Holland. Then he offered us a joint, very good stuff, and put a fabulous Arabic record on his turntable; the immortal Umm Kulthum, beloved by all Muslims, who sold more records than the Beatles ever did and when she passed had 2 million people attending her funeral…
After some glasses of wine (even though Ali was a Muslim) and tokes on the joint, Simon told him that he had scored some nice hashish in Rabat. Ali was interested and Simon produced his stash and we smoked some of that too…and what do you do for a living Ali? He stood up and went over to a chest where he opened the top drawer and showed us a badge, revolver and a pair of handcuffs while explaining he was the inspector of police…Big white teeth plus a gold one smiling at us as he said this.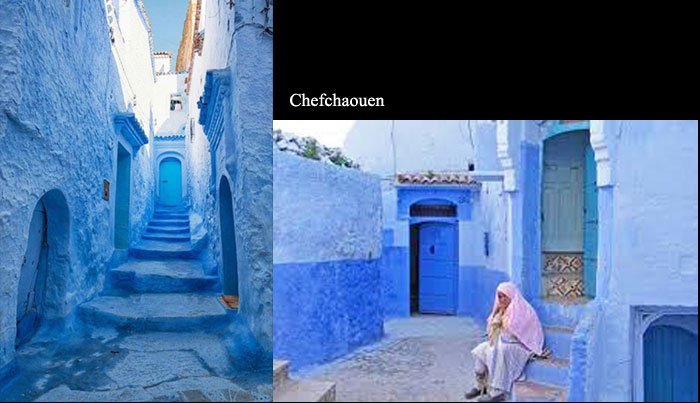 We nervously looked at each other but Ali continued to entertain us until we got up and said we were tired and that we were leaving again in the morning in order to get to Madrid in time for the upcoming gallery show. Needless to say we were worried and early in the morning packed and went out into the plaza where a uniformed officer stopped us and said the police commissioner wanted to see us, pointing at the gendarmerie, (police station) and to follow him. As we walked inside we heard a woman screaming and moaning. I felt a cold shiver go through my body…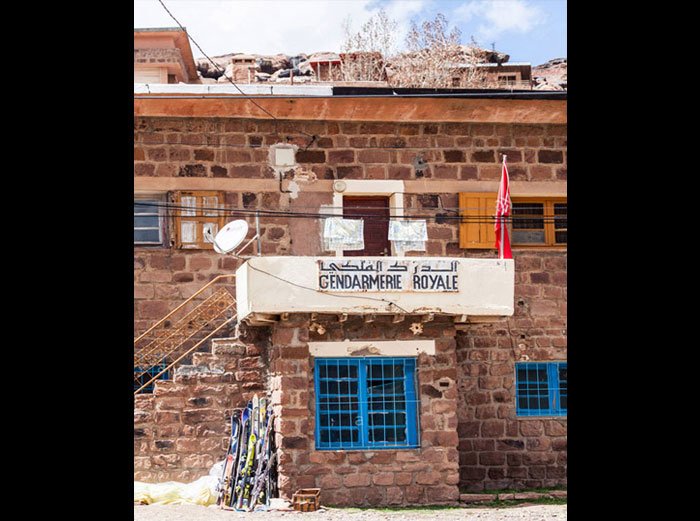 The commissioner sat at his desk and behind him stood Ali with a big smile on his face, we thought our goose was cooked. The commissioner asked for our passports in French and looked them over, then pointed at our baggage and said: What is in that case?… Artist materials monsieur… he opened the case and found tubes of paint and brushes. And in that valise?… Clothing and gifts for our family…Well, he said, looking at Simon, why is your wife wearing a man's djellaba?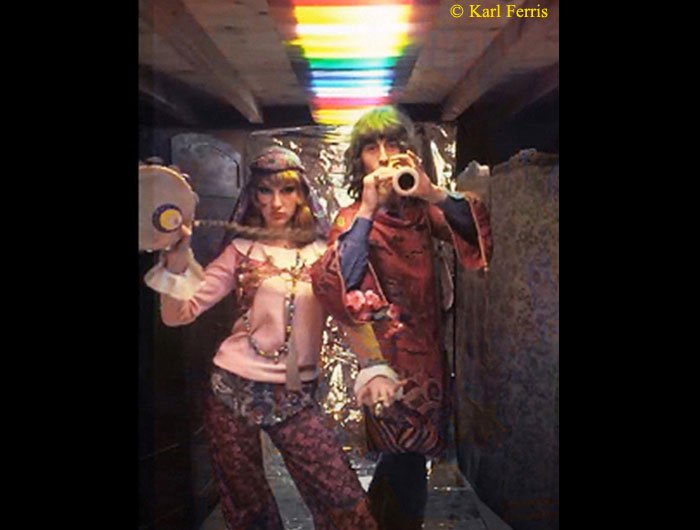 That was news to me, I did not really know a Moroccan men's garment from one for a woman and told him so. He laughed and said that it was highly inappropriate and against the law for women to wear men's clothes and to go change in the next room. I complied and when I came back Ali had still not betrayed us. We apologized for the gaffe and went on our way with a sigh of relief. Ali was our friend after all…Off to Tangier we went to catch the ferry to Spain and cross the 13 kilometer wide Strait of Gibraltar and then the train to Madrid.
To be continued….