STONED IN THE STREETS
The explosion of freedom of expression in the 1960's by the baby boomers was a reaction to the turbulence of the preceding World Wars and the Great Depression. There was an urgent tendency of this younger generation to explore new forms of music and art enhanced by the expansion of consciousness through experimentation with mind altering substances as well as the proliferation of popular culture on radio and television through innovations in science. Young people were compelled politically to stand up together for human rights and racial and economic equality. The early sixties blew the lid off the bubbling cauldron of music and art with new sounds and visions. There was magic in the air….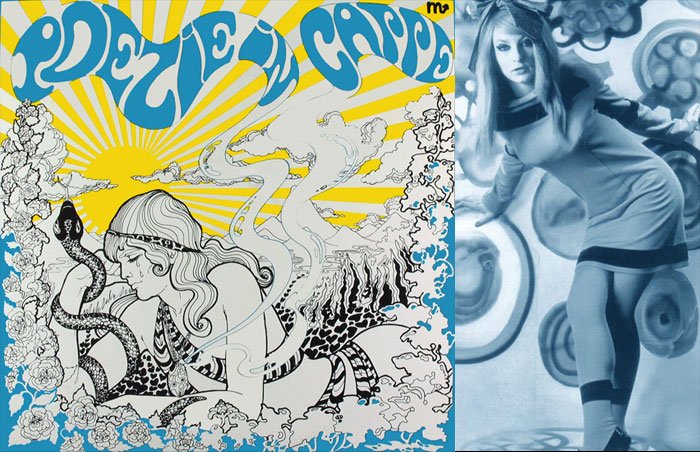 "Magic Center Amsterdam" in the early 60's was a hotbed of alternative creativity. This was a wild time, there was marijuana, hashish, and LSD in abundance, all more or less accepted by the authorities with typical Dutch tolerance. The nightclubs featured all the great American Jazz musicians like Art Blakey, Thelonius Monk and John Coltrane for our live entertainment. Simon and I had moved into a house on Wittenburg Island, a section of Amsterdam which was slated for demolition, although I quite liked its bare wood distressed interior. We had two floors, the upper attic dedicated as a studio. It was an artist community of painters, photographers, writers and musicians. Someone on the scene offered us Psilocybine mushrooms, I don't know exactly which genus, as yet untried by us. We decided to drive to a nearby park and take the trip there. And what a trip it was…
At first I had to vomit in the grass but soon the surroundings started to take on phantasmagoric auras of multi colored explosions of shifting shapes. Mosaic patterns of infinite variety played a symphony of fantastical images, was it inside my head or outside? The trees appeared like living souls with embracing arms and riffling leaves shimmering with light. The macro and micro cosmos were interwoven. Vivid memories of past lives and ancient places passed by, or were those in the future? When we got back in town we drove through physical obstacles like the electric trams…the old canal houses were swirling, their reflections in the water appearing as if they were dancing. It was a magical Pantheistic experience where everything was part of everything else in Divine harmony, it felt more organic, quite different from LSD's mandalas and kaleidoscopic imagery, and left me with a feeling of renewal. The next day's raw reality clearly revealed itself as it was, a drab gray illusion.
There were colorful local personas such as Robert Jasper Grootveld, a radical anti-cigarette smoking activist who pasted posters all over town and was the founder of the counter culture political "Provo" movement with far reaching consequences.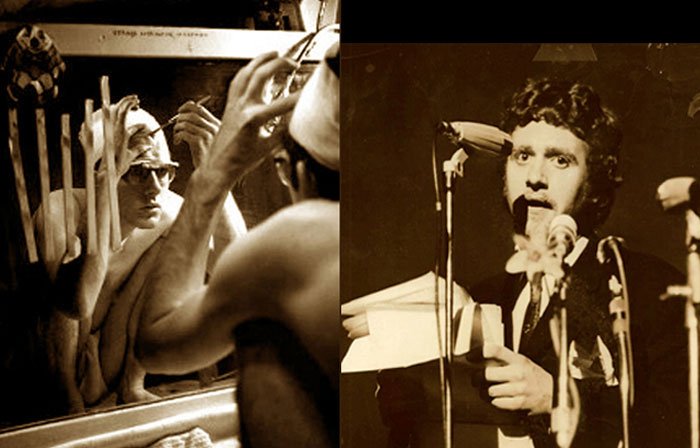 Then we had Johnny "the Selfkicker" van Doorn, the original Poet Rapper and Bart Hughes, a medical student who decided to create "the Third Eye" in his forehead using a dental drill to execute the trepanation. Influenced by Allan Kaprow's Happenings at the Ruben Gallery in New York, Simon Posthuma, with his co-conspirators had created the "Pot Art Company" and staged a Happening called "Stoned in the Streets" at "William's Place", a bar on the Zeedijk in the red light district.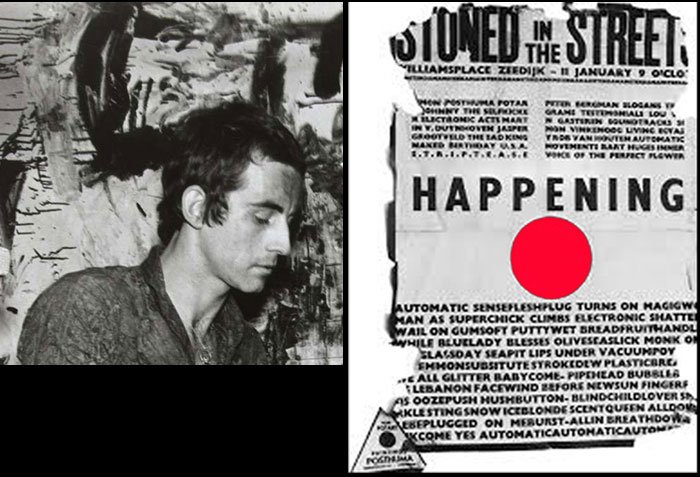 With the American Peter Bergman, erstwhile of the radio show "Breakfast with the Bergmans" and later a member of the "Firesign Theater" in California, and the assistance of Peter's Australian girlfriend Pamela Badyk, they produced posters and stickers announcing the event and distributed them everywhere. Johnny van Doorn, with his angelic appearance, always dressed in a dapper suit, would improvise his poetry with quasi magical incantations and ratcheted up to an interminable hysterical flood of an ever faster stream of consciousness. Today, aspiring young poets compete for the 10,000.00 Euros "de Johnny" prize!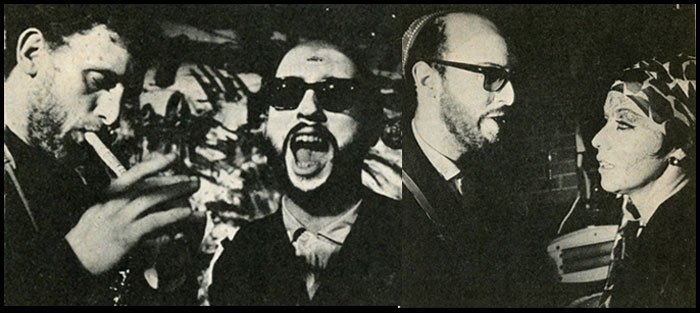 Gerrit Lakmaaker, the ether sniffer, did his mad dance stomping around in ecstasy playing a wooden Pan flute. Simon insisted he must make a body painting using the full color spectrum on my person and then reveal it at the Happening. I was under his spell so I submitted to his request for Art's sake of free expression. Soon thereafter he crashed my beautiful Jaguar and traded it with Peter Bergman for a brick of Afghani hashish.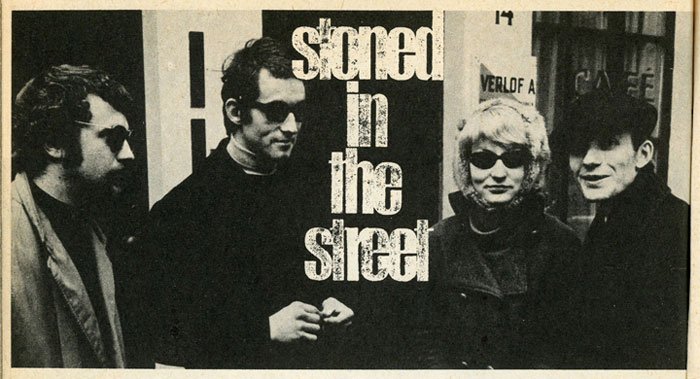 The event also featured avant-garde "Free Jazz" by pianist Piet Kuiters' combo and the unmasking of Bart Hughes' hotly debated opening of "the Third Eye" by trepanation. Bart took the stage to declare his manifest "Homo Sapiens Correctus" theory while Simon and Jasper unwound the endless bandage which read "ha, ha, ha, a cosmic joke"…It cost Bart being ostracized by the medical community for the rest of his life!
The demolition on Wittenberg started and we moved to another pad on the Oudezijds Achterburgwal where we had a large studio and a high attic space for a bedroom which I decorated with silk hangings and oriental divans with cushions and colored lights, a veritable Sultan's Turkish delight. One day film Director Joseph Losey rang the doorbell, introduced by our mutual friend Dick Polak, and asked to film some scenes for the movie Modesty Blaise with Terence Stamp, Monica Vitti and Tina Aumont in our Thousand and One Nights attic, thinking the imaginative environment made a suitably hip film set. This was an interesting distraction and gave us a taste of how a film was created and the interactions with the crew and stars. It was a swashbuckling mad Mod movie with an exciting speedboat race through the Amsterdam canals.
THE TREND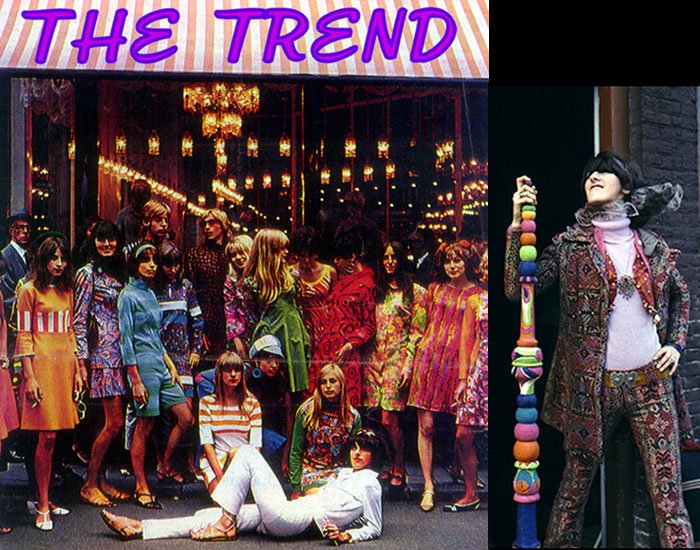 Mario Wellman was Amsterdam's celebrity hairdresser. Soon after we met he wanted to extend his salon on the Prinsengracht into a mixture of boutique, jazz cellar and art gallery. He promoted it grandly as "a preparatory center for the appreciation of art forms." and named it "The Trend". My school friend Yosha Leeger and I launched a fashion line called "Flashing Fashion" for the boutique, at that time influenced by Courreges' spacesuits, Cardin and Op-Art textiles, also using our own unique eclectic mixture of colorful fabrics designs.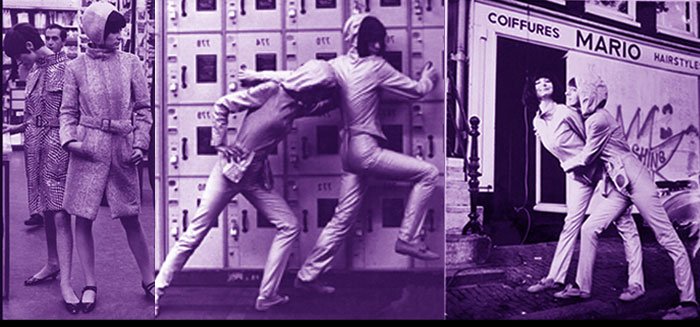 In the backroom gallery of "The Trend" Simon and I exhibited some of our paintings as well. Music by Bob Dylan, The Byrds and the Beach Boys blasting, the place was always crowded. The hair salon continued on the second floor of the ancient canal house. Several of Mario's wealthier clients had invested in the venture and things were off to a good start.
Mario loved the press and had rented castle "Oud Wassenaar" to launch the fashion collection as well as Piet Kuiters' new jazz version of the Dutch National Anthem. Promotion of  "Flashing Fashion" was continued in the "RAI" building with extravagant mobile décor pieces by Simon and modeled by Holland's super model Loes Hamel as well as Pamela Badyk, Yosha and myself. In the end Mario overextended himself chemically and financially and absconded to the Canary Islands causing "The Trend" to abruptly close. Eventually he was charged with embezzlement and spent some time in prison.
After this impasse I thought it would be best to visit Paris again where I might get some commissions. Simon was up for it too, so we took the train to the Gare du Nord and installed ourselves in a small hotel. I made contact with my agent Patrick W. who referred me to the director of "Marie-Claire" magazine, Philippe de Baleine. When we arrived at his posh office on the Boulevard Flandrin he enthusiastically went through my port-folio and said: "my wife Monica should see this". He talked to her on the phone, ordered a taxi and we were on our way. Monica was a slender brunette, elegant and fashionable in stylish outfits living in a typical Parisian chic apartment and she welcomed us to stay in their guestroom for however long we wished, calling us us her "Sonny & Cher".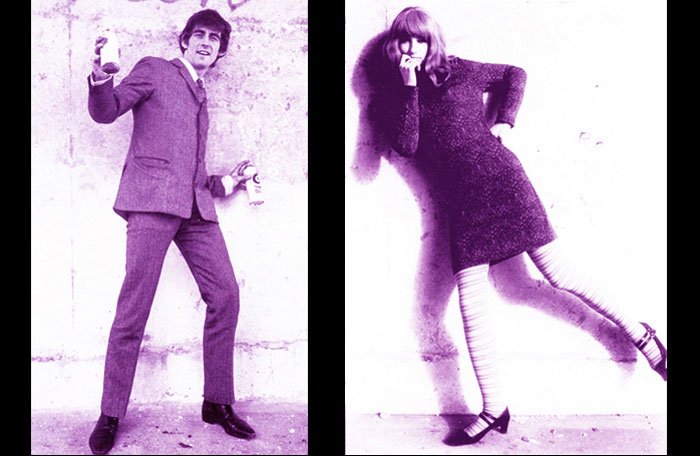 Monica created theatrical surrealistic costumes herself and really enjoyed our work and company. She also taught us how to serve and eat an artichoke properly. We had a great time and she introduced us to interesting friends, some of whom owned large collections of mainly impressionist paintings to admire.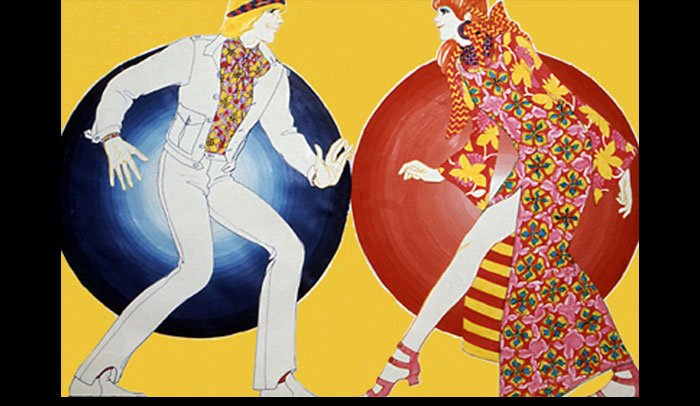 Meanwhile I had received an invitation from Mr. Aristide Skylitzis, the director of the Greek advertising agency "Greca", to work for them for a few months, so I decided to accept the offer. I was tired of the craziness of the Amsterdam scene and curious about classical Greece. Simon was interested in going as well so we said farewell to our friends in Paris and Amsterdam and in November of 1965, we were excited to be on a flight to Athens.
To be continued…..