One evening Mal Evans, the Beatles' assistant called to say John Lennon & Paul McCartney wanted to meet Simon and myself so a few days later they knocked on the door and like an apparition suddenly stood in our living room in St. Stephens Gardens. They had seen the "Saville Theatre" program cover I created for Brian Epstein and were intrigued by the artwork. There they were, sitting in our living room with a dazed expression on their faces, blowing their minds out over the "Wonderwall" we had painted. I nervously served tea and we listened to the :Incredible String Band" album on a scratchy reel to reel. Then we climbed upstairs to our big studio to look at more artwork. There was electricity in the air as they looked around in amazement and we sat on the floor chatting and smoking a doobie. Soon thereafter they introduced us to George Harrison and Ringo Starr and a friendship developed between us and the "Fab Four".
They invited us to the recording session party for "A Day in the Life" at the EMI studio on Abbey Road on February 10, 1967, which was to be released as a single June 1st. I danced around with sparkles and blowing bubbles enjoying myself very much, it was great fun. I have never been much of talker and Simon with his "gift of the gab" was always our spokesperson and interacted with the celebrity participants. After that we were commissioned to work on sketches for the Sgt. Pepper album cover. I painted a rough idea on paper in gouache, the final artwork to be done after approval. It was just an initial concept sketch but everyone assumed it was the final artwork and established elitist art dealer Robert Fraser rejected it; he preferred to promote an artist of his own stable and ultimately only my inner disk sleeve design was used. However, after all, the final "Sgt. Pepper" cover collage by Peter Blake turned out great!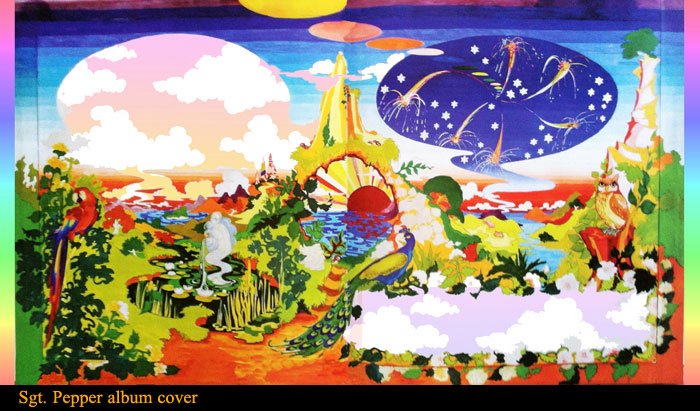 After completing the commission for the "CREAM"s stage gear and painting their instruments earlier in the year, Eric Clapton and his lovely girlfriend model Charlotte Martin took us to Hyde Park at "Speaker's Corner" to participate in a "Pot Rally" touting the legalization of marihuana, organized by activists Allen Ginsberg and Steve Abrams. The event was advertised with an enticing poster by artist Martin Sharp. There were a lot of people present, even some of our friends from Amsterdam, the writer Simon Vinkenoog and his wife Reineke, flew over and attended as well. It was a happening scene and a lot of weed went around but as far as I know, no arrests were made
Graham Nash of "The Hollies" also became a close friend. We all enjoyed each other's company. He liked hanging out at our studio playing with strobe lights on the paintings. Graham was a fun guy and we laughed a lot. He commissioned us to design the cover for "The Hollies" Evolution album, and I also made stage shirts for the band. We got to meet his friend Cass Elliot at his converted carriage house who, later in Los Angeles, became a good friend and treated us to our first ever Thanksgiving dinner when we moved there. I enjoyed shopping for fabrics at Liberty's textile palace or on Portobello Road and other fabric stores. We also took time to visit the "National Gallery" to study the mesmerizing Gainsborough, Turner and Constable paintings, among others.
The jobs started to roll in. I painted a cover for Dutch pop star Boudewijn de Groot's "Picknick" album and manager Tony Secunda commissioned us to design the album cover and the stage costumes for the "MOVE" and also outfits for the "Procol Harum" stage appearances with their "Whiter Shade of Pale" single release scheduled for May 12, '67.
Joe Boyd, the manager of the "Incredible String Band", whose founders, Mike Heron and Clive Palmer we were already friends with, asked us to design the "5000 Layers of the Onion" album cover, which became a favorite album cover for aficionados and was prominently featured as the closing shot of the 2009 film "Pirate Radio".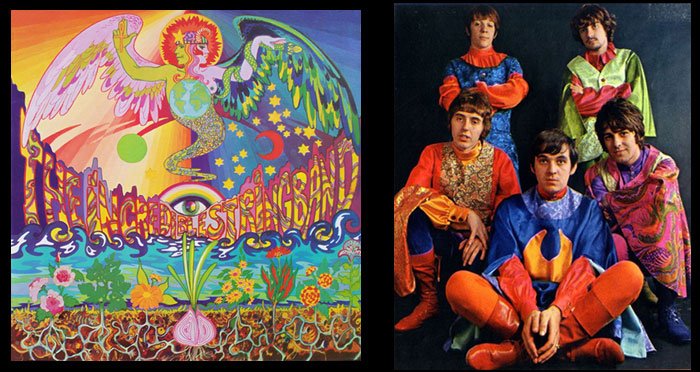 When Simon confessed he had taken up with a call girl named Diane, I became seriously depressed. Simon and Barry were in control of the finances and I didn't have a penny in my pocket so I could not leave if I wanted to, for which I could only blame myself! Since work was starting to pile up, I invited my school friend Yosha Leeger, who was a talented fashion designer and artist to come live with us and help me out with the garment production. Yosha looked like a model, very slim with big green eyes and was my closest friend and emotional support. We had previously designed the "Flashing Fashion" collection together in Amsterdam. For Barry Finch, one look at Yosha was all it took and they quickly became an item. Eventually we decided to call ourselves under the collective name "The Fool".
In the meantime, needing more space now for the four members of "The Fool", we had moved to Montagu Square, Marylebone, in the large basement flat of Coster and Anoushka Hempel's house, across from Ringo's London home. They were cool people who admired our doings and did not mind when we painted our front door royal blue, spangled with yellow stars. Anoushka had gifted me my longhaired dachshund puppy Amiga after taking care of her dam Poochie when they were on vacation. After Coster's death Anoushka became an actress and a very successful interior designer/architect of the highly rated Blakes Hotel, the Hempel Hotel and more.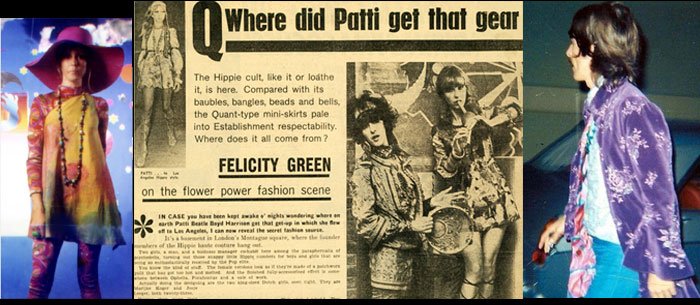 Our relationship with "The Beatles" continued. George and Pattie were planning to attend the "Monterey Pop Festival" June 16-18, '67 for which Yosha and I designed a purple velvet coat for George (now in the permanent collection at the "Victoria & Albert" museum) and several outfits for Pattie. She liked our clothes and happily did some modeling and photo shoot sessions with us. All this caused Felicity Green of the "Daily Mirror" to wonder: "Where did Pattie get that gear?"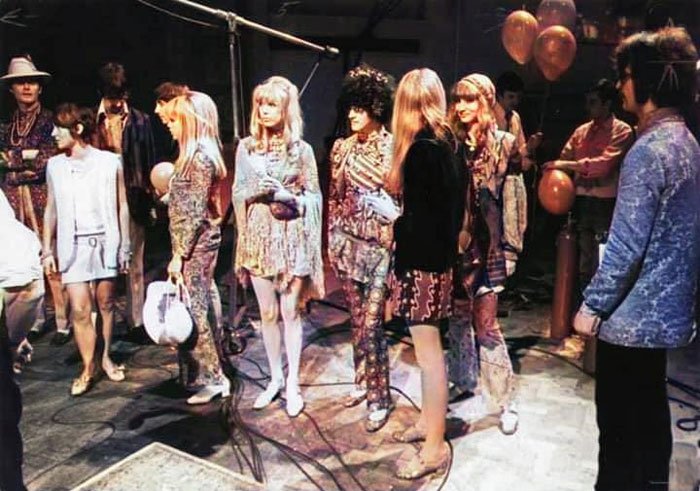 That same month Yosha and I worked on outfits for the Beatles to wear to the first live Satellite TV production "Our World" featuring the song "All You Need Is Love " which aired June 25, '67 and the Fool were invited to join the session. The event was an exuberant and exciting experience with many musicians, rock stars and other celebrities participating. One of them was the gorgeous Geraldine Chaplin, who also did some modeling for us later. I was playing my tambourine and am still credited for that in discographies.
Then John Lennon called and asked Simon and me to paint his upright piano, a relic from his youth, so we stayed at his "Kenwood" home in Weybridge for about a week to do that. The piano was decorated all over with landscapes, colored spectrum bands, wavy color forms and esoteric symbols. On the left side panel I put the Tarot card for Libra, which was John's astrological sign and on the right side the Tarot card for Virgo, which was Cynthia's sign.
The keyboard was painted as well, according to Goethe's theory of the alliance between musical notes and the colors of the spectrum. I appreciated John's alertness, sarcastic wit and cool. He enjoyed watching us paint and wanted to know all about the theory of the correspondence between color and sound that we talked about. Eventually the piano ended up in George's possession and is now with his son Dahni at "Friar Park".
While playing ball in the garden with four year old Julian one morning, I came upon a fabulous painted gypsy wagon and jokingly mentioned to John he could paint his Phantom Rolls Royce like that. He thought this was a great idea and promptly contacted "JP Fallon Coachworks", the decorators of the caravan, and had it done. So, contrary to popular belief, The Fool did not paint the Phantom. Recently the caravan was found in a field, reduced to rubble, and then restored by a charity organization "Bring Peace to Life" and I was commissioned to create a painting as a backdrop to accompany the restored caravan on tour to raise money for charities in 2020. The tour was postponed because of the Corona virus pandemic.
We had some exhilarating rides in the Phantom though, like going to Brian Epstein's party at Kingsley Hill in Sussex to celebrate Sgt. Pepper's release with a convoy of cars, including George's mini that he had painted with Tantric symbols. John was playing Procol Harum's "Whiter Shade of Pale" over and over, he liked that song so much! LSD was doled out to the guests and two foot long placards with the legend "Safe as Milk" were pasted all over the mansion to reassure the guests that all was groovy… On August 27.'67, the shocking news was announced that Brian Epstein had passed away to everyone's great shock. That same night the Jimi Hendrix Experience played the "Saville Theater" with Arthur Brown, but the ship had lost its Captain…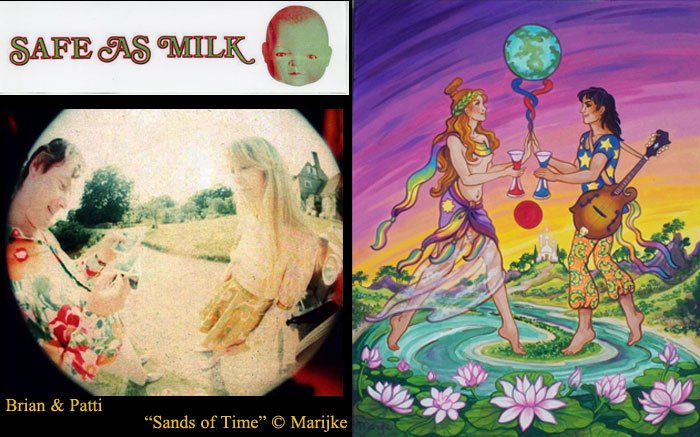 Life went on and Paul Mc Cartney invited us to his house on Cavendish Avenue several times to listen to the new songs he was working on in his home music studio. On one of these occasions Paul's housekeeper treated us to tea and cake but it soon became clear that the sugar cubes were not as innocent as they looked. I had brought my dachshund Amiga and took her roaming through the garden where I went right through the looking glass because it was full of "Alice in Wonderland" statues peaking out of the foliage.
Paul and I were very attracted to each other right from the start of our meeting. The sparks were flying every time we met which disconcerted Simon of course. After Simon's escapades I felt no qualms however but he did not think what was good for the gander was good for the goose and he had the nerve to tell Paul to lay off. On occasion I read the Tarot for Paul and the death card came up several times, which worried him. I explained that the card meant renewal and rebirth but it is sad that death knocked at his door several times in real life, no one can escape sorrow! I noticed empathy in the way he dealt with people, which is expressed in the songs he wrote and he loved animals, I could really relate to that.
When Linda Eastman came to town from New York for an assignment on the London scene for "Rolling Stone" magazine she stayed in our guestroom for a few weeks, dating Simon Hayes who was our manager at that time. Since I have been a vegetarian from childhood for ethical reasons and the others in the house followed suit, at least while I was around, I suppose she took this to heart and became a vegetarian herself. Linda and I got along well and she took some nice pictures of us on Primrose Hill. Little did we know she would get married to Paul a year or so later.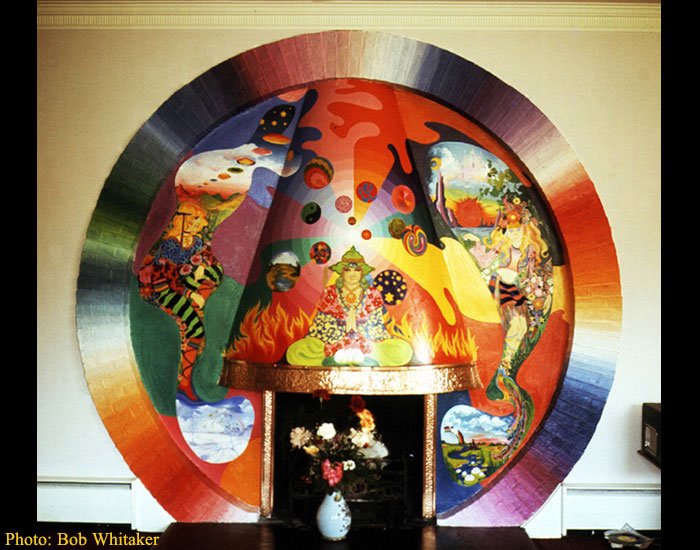 During autumn George asked Simon and me to paint a mural around the fireplace in the living room at the "Kinfauns" bungalow in Esher. The mural portrayed George and Pattie as "Music Boy" and "Flower Girl", as they lovingly called each other then, attended by a Yogi surrounded with an Aura of Light as the focal point to express their interest in Hinduism. We stayed at their lovely place about ten days to complete it.
Inspired, George started decorating the exterior of the house, graffiti style with spray cans, and Simon gave him a painting lesson saying: "Everyone who wants to can paint man!" This is what we would tell anyone interested in art but insecure about trying, just like some musicians would encourage us to make music! George was kind and funny but would also be quiet and pensive at times. While there, we also visited Ringo and Maureen who lived nearby. Ringo, always laid back and easygoing, made us feel welcome and I got to hold their squirmy baby boy Zac,
George and Pattie were very hospitable and we had the pleasure of being treated to an impromptu performance by Ravi Shankar and his tablah player. Something I'll fondly remember for the rest of my life! One day Pattie invited me to accompany her to her dance class. With her usual grace she practiced the lovely classical "Bharatanatyam" discipline with postures that replicate the Hindu temple statues.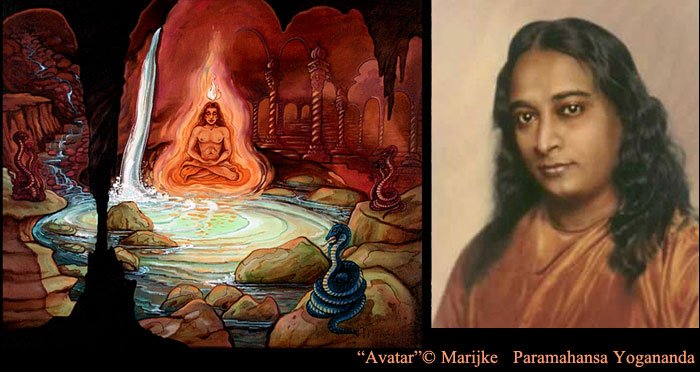 George also turned us on to Paramahansa Yogananda's book; "Autobiography of a Yogi", whose large portrait was watching us from the wall while we were painting the mural and I have been a fan of the "Self Realization Fellowship" ever since and got married at their "Lake Shrine" Dutch windmill chapel in Pacific Palisades, California to my current husband, Don Dunham.
To be continued…