SERENDIPITY
The notorious island of Ibiza in the Balearic Sea was waiting for us so Simon and I took a train from Madrid to Valencia and from there, a boat to the island. The Mediterranean smelt fresh and briny, at the island's picturesque harbor the docks were busy with merchants and stevedores hustling sacks of dates, kegs of olives and barrels of sardines.
We walked up the road through the great gate into the old town behind the walls of the fort, still guarded by canon. My first impression of the island was of a general bleakness, no waving palm trees or pretty landscaping efforts, except for the blazing magenta bougainvillea and pots of flowers hanging from the balconies once we explored the town's back alleys. The tourist trade had not yet hit Ibiza except for a few beatniks and flower children like us.
We soon found an intriguing place for rent named "La Galeria", originally a warehouse for imported goods from all over the Mediterranean, which we called our castle. On the ground floor, covered with large sandstone pavers, stood a gigantic ebony bed behind open archways, which I draped with sheer netting obtained in the souk of Rabat.
A primitive bathroom was situated in a corner of the spacious area and rickety wooden stairs led to the floor above, containing a large tiled living room with an open balcony, walled with masonry, looking out over the center of town and another room we could use for a studio and stash our belongings. At least the kitchen had running water but also a lot of cockroaches of different colors, four centimeters long, which I did not mind, I thought they were cute and just shooed them away but was careful not to leave food out.
On our exploration of the town visiting the taverns and coffeehouses we met the photographer Karl Ferris and his gorgeous German wife Anke, whom we were to spend a lot of time with over the coming years. Karl was originally from Canada but had spent long periods in Germany where his dad was stationed. I had obtained some cool batik fabrics from another new friend; Solange, sleek, exotic and very Spanish looking, who lived with her mother the Marquesa, in a Moorish mansion decorated with wrought iron and painted tiles, furnished with heavy dark antiques.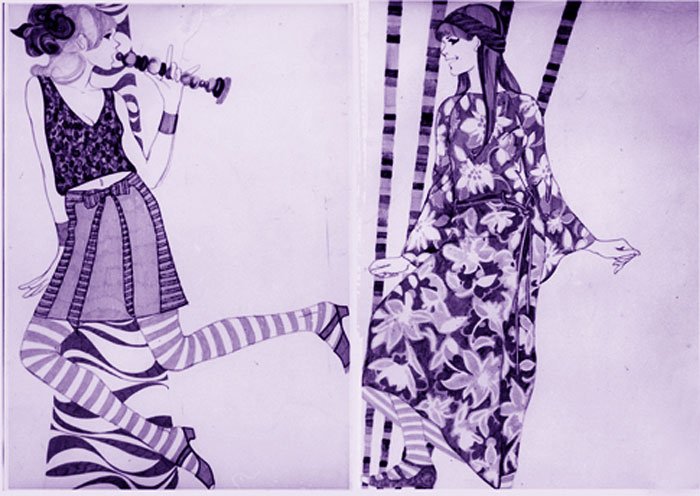 Once again I produced some "Flashing Fashion" outfits to sell in the one and only boutique, "La Moda", and Karl was keen to make photographs of Anke and myself modeling the dresses. We also met middle aged American Fran Lewis, former personal assistant to satirist Lenny Bruce, who lived in a modern apartment building. She was smart with a great sense of humor and was interested in helping to promote our work and eventually followed us to London for that purpose.
Solange was a wild child and loved to give LSD parties at the mansion where we met interesting people, dancing to the pulsating chords of Ray Charles, The Graham Bond Organization and Manitas de Plata. The Beatles' LP "Rubber Soul" was number one on our hit parade. One of Solange's friends was Elmyr de Hory, well off and living in a large modernistic white bungalow full of impressionist paintings, where he threw a pool party for our benefit. For the guests' entertainment Simon and I executed an action painting on a large piece of heavy paper stretched over a wooden frame, depicting some mythical creatures and then jumping through it when the painting was finished. We repeated a similar stunt in Los Angeles in 1971.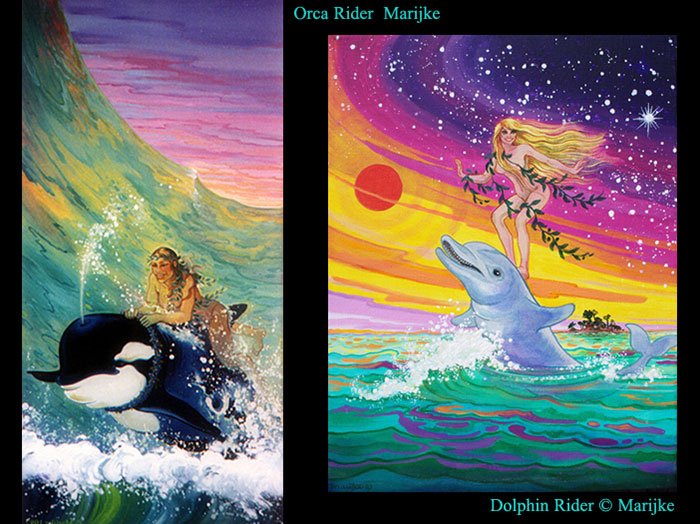 Everyone enjoyed the act. The guests included the writer Clifford Irving and Nick Burrell-Davis, a producer for the BBC who we would meet again in London. Mara, a rich glamour girl asked us to draft a design for painting her pool and of course the Marquesa, Solange, Fran and Karl & Anke were among the guests. As it turned out, Clifford betrayed Elmyr by writing his book "The Story of Elmyr, the Greatest Art Forger of our Time". This really was the pot calling the kettle black because by 1972 he was exposed himself as the writer of the fake diaries of Howard Hughes and sentenced to a year and a half in prison. (See the 2006 film "The Hoax") 
At one point Simon wanted to take some LSD on the beach to watch the sun set just by ourselves but he gave me too much and I overdosed, right away plunging into a trip through infinity and eternity, running a gauntlet of distorted, grotesque daemonic images, which I did not fear, followed by the usual enjoyable kaleidoscope of exploding paisley fireworks and frost flowers but then I dissolved in a pathos of endless ice cold space, indescribably blue, dark and light at the same time beyond the outer limits of my consciousness, an enveloping disconnection between the macro and micro cosmos after which I experienced an entropic dread, intense and complete loneliness and then passed out completely.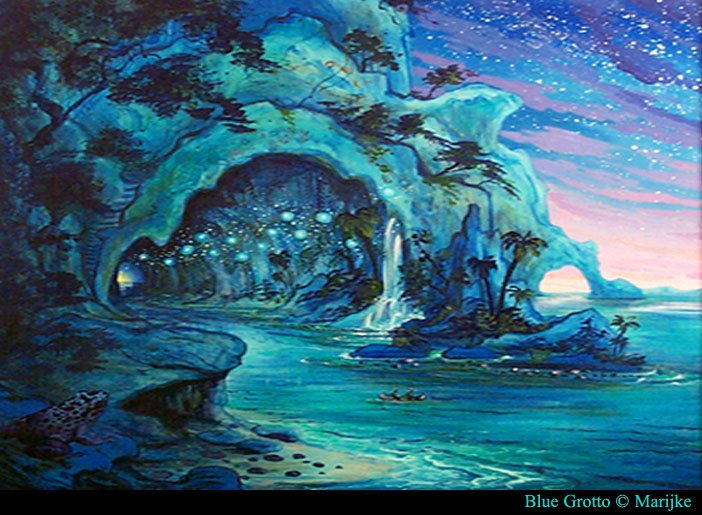 I woke up the next morning in an unknown place on top of a made bed, the weirdest experience I've ever had. Simon told me that he panicked and went for help at the nearby place of a woman of his acquaintance and they brought me to her apartment. He told her to leave so as not to be involved in case of worse developments. He did not want to involve the paramedics or the "Guardia Civil" (police), knowing that we would all face a difficult situation, things could have turned ugly very quickly! I got up, went down to the beach and dove into the cool Mediterranean Sea for a long refreshing swim. I had realized we live to die and die to live and can not know light without darkness…
Another fascinating couple on the island were Danish Frederic and Baroness Nina van Pallandt, a successful folk & calypso duo, with hits like "Listen to the Ocean", who lived on their yacht in Ibiza's harbor at the time. They were wonderful and talented people and we were delighted to spend some time with them. Our artwork interested them so much that when we explained we planned to go to London very soon, they offered us a grant from their Charitable Foundation to help us along. (Tragically, Frederic and his second wife, living on his yacht the "Tiaping", were murdered in the Philippines  in 1994)
Swinging London was beckoning so we said a fond farewell to our new friends and in the summer of 1966 Simon and I were gone with the wind to land at Heathrow airport and after going through customs took a taxi into town where we quickly created some interest in our activities within the creative community.
To be continued….