COSMIC COUTURE
When he was not residing in his mansion in Montecito, Santa Barbara, to be near his beloved polo field at Earl Warren's equestrian center, Michael Butler had a large four bedroom house with a pool off Kings Road above the Sunset strip where he conducted his various business projects. The latest of which was the launching of an exclusive limited edition fashion line called "Summer Sunday". He invited me as well as some of my friends who were also designers, Marsia Trinder (daughter of a former Lord Mayor of London) and Simone Strauss, an established fashion designer, to participate.
For my garment designs Simon and I wanted to make hand silkscreened fabrics; the full Rainbow Spectrum, a Stars design and a Clouds design on velveteen, velvet, satin, cotton and chiffon. Our manger Ben Stagg located a silkscreen factory downtown, owned and run by two elderly sisters from Romania. They were supplied with the "repeat" of the designs to make the silk screens but allowed us to do the actual printing ourselves.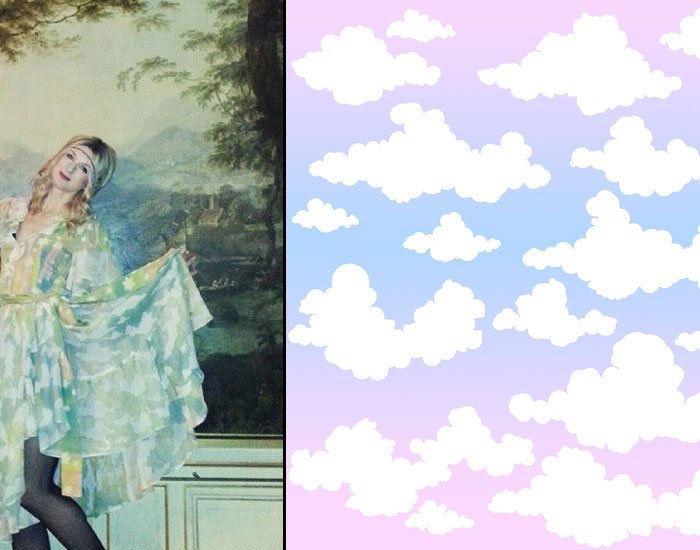 The factory had two 60 feet long tables, 50 inches wide, to accommodate the length and width of the textiles, which were then covered with our choice of fabric. On top of that we put the silk screen, encased in a wooden frame and poured the desired colors to be printed in the "catch tray". Simon stood on one side of the table and I at the opposite side, then we pulled the squeegee back and forth, repeatedly lifting the screen up to place it at the next marked section, occasionally replenishing the ink and so on down the line. It was back breaking work for a week or two but it worked beautifully.
The sisters were sweet and offered us tea and buns slathered with cottage cheese for lunch, apparently a Romanian delicacy! After we finished the printing the sisters put the fabrics through a heating process in a funky old contraption to make it colorfast. We ended up with many yards of our own fabrics, probably the first time ever that the whole rainbow spectrum was printed on cloth, although that had many times been accomplished through weaving by indigenous peoples.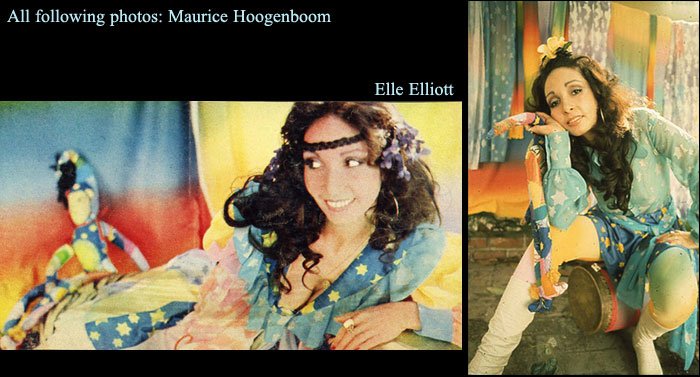 Equipped with all the textiles I needed I was set to make the samples for the new fashion line and started by making the patterns, then cut the designs out of the cloth. By happy circumstance I was just getting my drivers' license and my driving teacher's wife Terry happened to be a seamstress so I gave her the cut out garments with sketches of the outfits plus all the necessary notions to sew them together and she did a marvelous job!
Our friend photographer Maurice Hoogenboom was assigned to a photoshoot of the "Summer Sunday" collection. I asked my pretty girlfriends Genevieve Waite, Elle Elliott and the Gemini twins; Maureen and Colleen Thornton, as well as the handsome boy twins Ray and Tay Uhler to model the outfits and Maurice took them to various locations in Hollywood, the beach in Malibu and the desert in Yoshua Tree for some great shots.
In the meantime Michael commissioned us to redecorate the octagonal library in the Kings Road house. This included a mural of a tribal goddess in a tropical landscape. A painted octagonal table occupied the center of a custom made thick foam rubber seating section, the arrangement covered in velvet of radiating colors, enhanced with multiple hand appliqued cushions and pillows of various shapes. Velvet curtains of our new rainbow fabric were hung at the two long windows on either side of the bookcase. Simon's painting of a balloon was installed on the remaining wall above a low bookcase, which featured an array of framed photographs of Michael's intriguing and important friends.
Through Michael we were also able to visit Tony Curtis' house in Bel-Air for a fashion shoot with his beautiful brunette wife Penny. Tony was a lot of fun, it was a hot day and he was running around in his jockey shorts, showing us his pretty wood carved "Art Trouvee" boxes that he had created. Raquel Welch also agreed to do a photo session in Michael Butler's freshly painted library. She was very sweet and cooperative and absolutely gorgeous. She was very limber and practiced Hatha Yoga and in the nineties I used her excellent instructive videos on the subject.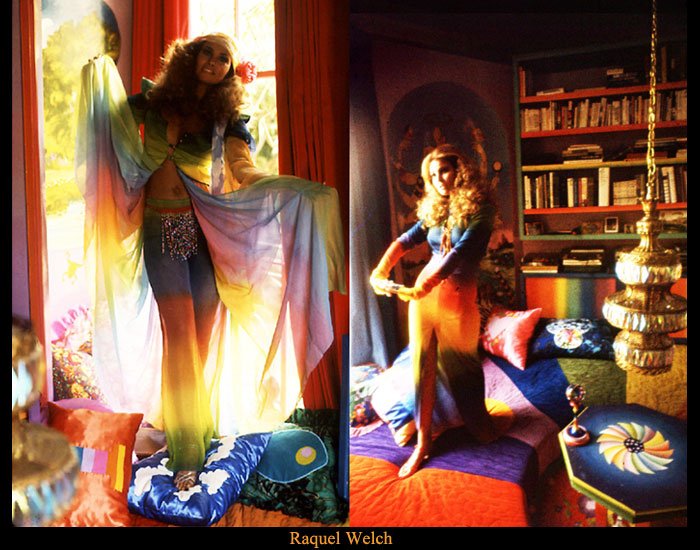 Our collections were ready to show, including Marsia Trinder's wonderful thin chamois dresses and fine leather pants and jackets, stitched the Native American way with thongs, and leather belts sprinkled with rhinestones and massive Star shaped silver buckles as well as Simone Strauss's sheer silk chiffon fairytale fantasies in interesting multi-colored prints.
Michael's associates in the fashion world, including his girlfriend Minnie, already had received orders from stores like "Robertson" in L.A. and "Henry Bendel", "Macy's" and "Neiman Marcus" in New York City. However, apparently someone in his entourage had impressed on Michael that astrologically it would not be fortuitous for him to be involved in the fashion industry and after all he decided to jettison the project altogether, albeit reluctantly.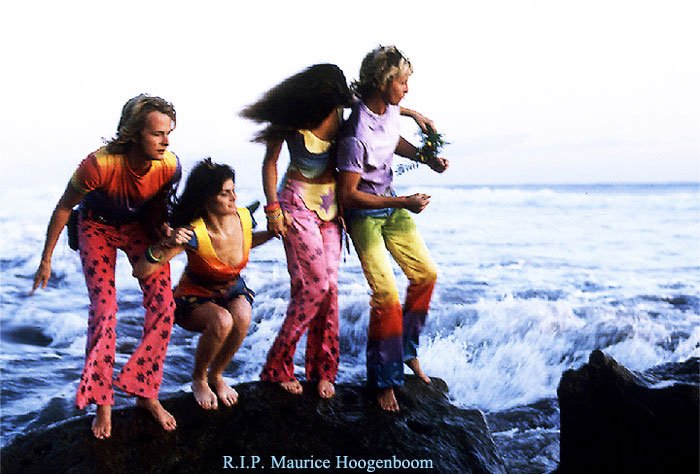 This was a disappointment but Simon and I were already busy on some other projects too. We painted a pool at Valerie Perrine's house in Studio City and our manager Ben Stagg had been negotiating with a clothing manufacturer to have a commercial fashion line produced.
Bill Berman had been a long time in the manufactured rag trade and after Ben presented him with some of my new designs he became enthusiastic about a new line aimed at a younger crowd. We insisted however it should be produced using our own rainbow, stars and clouds textile designs which he protested would make it too expensive but in the end a solution was reached and he went ahead with the "Astrobeams" line. Not long thereafter it was available in local stores like Macy's and Nordstrom's. It was thrilling to see teenagers on the streets wearing my colorful clothing.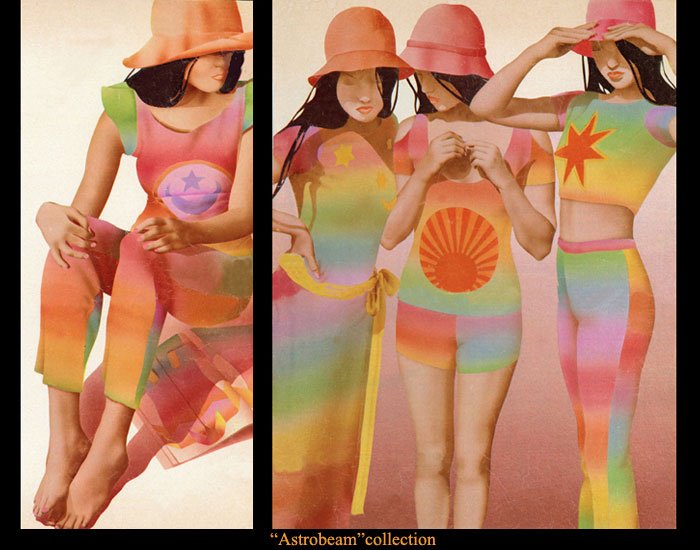 Our friend Jim Paris introduced us to Arti Ripp, entrepreneur of "Family Productions", was the producer of Billy Joel. They were old friends who both hailed from the Bronx in New York. Arti and his wife Phyllis, small son Adam & little Melissa lived on Outpost Drive, above Franklin Avenue and they commissioned us to paint a mural in Arti's home office, depicting his family floating in space, a sectional art piece of wood to hang on the wall by the Steinway piano and a pool painting.
After finishing the office mural I found myself about to pass out in a hundred degrees heat in the middle of summer at the bottom of the Ripp's pool painting marine animals, pirates and treasure chests with dangerously caustic special pool paint, while Simon had a date with some girl and never came back. Fidelity was no longer part of his mindset. This behavior was starting to be annoyingly depressing but we were dependent on each other and I kept my cool…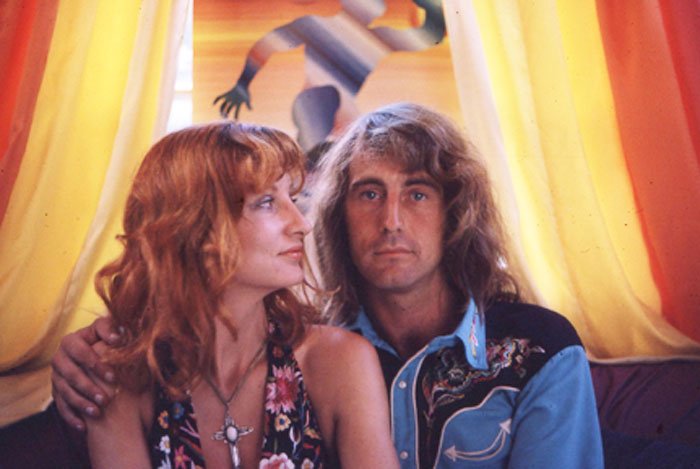 To be continued…